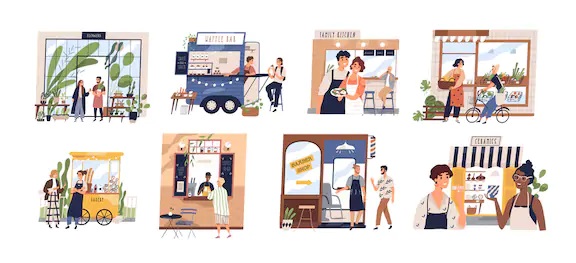 Franchising is among the top branches in the British economy with over £15 billion revenue each year.
According to the last data, there are approximately 50 000 franchises across the UK and almost 1000 franchisor brands.
And what is even more remarkable is that over 93% of these franchisees are declaring profits, and six in every ten have a turnover of over £250,000 annually.
These impressive numbers are showing that franchising is probably the best solutions for first-time entrepreneurs and everyone who is looking for an opportunity to have more control over their life regardless of the current economic situation.
The success of the franchise model is hidden in the idea of developing a business based on a renowned brand, proven working methods, and products and services with the already established customer target group.
The franchise units also benefit from the training and support system provided by their company-headquarter. Another reason why franchising is gaining such momentum is the wide range of investment opportunities.
There is something for everyone, from high-end food franchises for over £70,000 to small business franchises that require initial capital as less as £5,000.
Amid worldwide pandemic, many people must reconsider their future.
According to latest data from the Office for National Statistic, more than 300, 000 people in the UK will lose their current position until the end of the year, and many other will be forced to work part-time.
But when one door closes, another opens and investing in franchising could be just the right opportunity.
Naturally, we understand that if entrepreneurship is something new for you, risking significant capital is probably not what you're looking for.
Therefore, we selected a few of the best small business franchises UK that you can start without taking a hefty bank loan or using all your savings.
Top small business franchises
Starting a small business as a franchisee has several advantages:
► Foolproof methods and systems of work
► Low investment set up cost
► Quick break-even
► Scalable business model
► Possibility to work part-time and eventually grow up into full-time
Still, the formula for success will not be complete without your input. The prosperity of your business depends very much on your motivation, enthusiasm and eagerness to roll up your sleeves and jump into action.
With that in mind, let's have a look at the top small franchise business ideas, available in the UK right now:
Computer And Internet-Based Services
Computers and IT technologies became a vital part of our lives. Not to mention the fact, that is almost impossible tor run any business without computer or laptop.
The good news is, this impact creates constant demand for repair and maintenance services.
Having IT knowledge and expertise will be beneficial; however, you can also run the business on managerial style, where you are responsible for the marketing, the organisation of work and the customer service.
The best part is that this business is a perfect home-based opportunity.
Other options for running a small business franchise in the sector are:
► Offering software solutions like app development
► Providing digital marketing services
► Online courses
The investment price for this type of franchises is between £5,000 and £15,000
Pet Franchises
If you love animals, checking the possibilities for pet franchising should be perhaps your first stop in search of small business franchises for sale.
The pet food market is estimated at over £2 billion, and currently almost half of the households in the UK have a pet. Those are encouraging number for anyone who wishes to turn their love the furry friends into a sustainable income.
There is a wide range of businesses connected with different pet services and products.
To name a few:
► Pet care – dog walking or cat sitting
► Pet boarding
► Pet food
Most of these opportunities are easy to set up, and you can start working almost immediately. Typically, any necessary tools, equipment and uniforms are provided by the franchisor, another positive side on buying an established business model.
Investing in pet franchise will not bite a significant amount of your savings. The price range, similar to many small business franchise opportunities UK is between £5,000 and £15,000.
Children Sports And Leisure Franchises
Among the top opportunities in the low-cost investment range, children sport and leisure franchises are certainly the most joyful and fun ones.
Working with children is very emotionally rewarding but also could be a source of dependable income.
According to data from the Office of National Statistic families in the UK are spending approximately £250 a month for out of school activities per child.
The demand for quality leisure service that develops physical and mental skills among the children creates a profitable market niche that worth tapping in.
Some of the most popular types of franchises are:
► Dance classes
► Different sport activities
► Art and music classes
► Learning through playing activities
► Fun science classes
Most of the franchises in this sector are home-base with an option to start part-time around another job. The investment price starts from as low as £2,000 and goes up to £15,000.