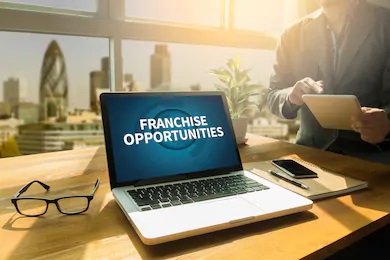 Franchising is gaining a real momentum among the Britons who have taken the path of self-employment due to the many advantages provided.
From established brand name to the full training and support, setting up a franchise is an excellent opportunity to take control of your life and find a better balance between work and life.
The franchise industry in the UK is currently adding around £17 billion to the country's economy, providing a livelihood for more than 700,000 people.
According to the latest data, at the end of 2019, there are around 1,000 franchises with more than 50,000 franchisees across Britain. The pandemic of COVID19 slowed down many industries.
Still, franchising is in steady growth due to the many home-based businesses, the wide range of investment level and, of course, the low-risk degree of capital loss due to the proven way of operating.
It is evident, that franchising is an opportunity that worth considering, especially if you have that entrepreneurial flair and you wish to be your own boss. However, the process could be a bit overwhelming if you don't know where to start.
Luckily, we have some useful tips for you, that will assist you when looking for a franchise business suitable to your needs.
1. Do profound research
As we mentioned, there are more than 1,000 franchises available in the UK at the moment.
There are divided into many sectors and require a different amount of investment capital. To find the right one for you, it might look like finding a needle in a haystack, but you can ease the process by applying some simple tricks.
When you first start looking for a franchise business, ask yourself what kind of work makes you most content.
If you're an active person that likes to spend time outside and be always on the move, then you should check for business opportunities such as fitness and sports franchises, home repair, personal care or children franchises.
On the other side, if you're looking for something that will keep you occupied mostly at your home-desk, then you should look towards online and internet franchises, finance and accounting or managerial type of cleaning business.
After this initial narrowing process, you can continue shortening your list using different personal criteria such as:
► how important for me is the emotional reward of what I'm doing?
► how many hours I'm ready to invest in my new business?
► how much I enjoy working with people or I prefer more solitude working environment?
► how much extra expenses I'm prepared to invest in, for example, – lease, stock and others
In the end, ideally, you should have a list of around 10-15 companies that could become your future franchisor.
2. Check your location
Location is essential criteria when it comes to the potential success of your venture.
When looking for a franchise business, you need to make sure the company hasn't already opened a franchise unit in your territory as most of the franchisors have an exclusive policy for specific areas.
Another reason why your location is important is connected to your competition. Therefore, when you have an idea, what kind of business you'd like to operate, make research checking for your possible match.
3. Ask financial advice
The good news is that nowadays the franchise industry offers all level of investments, including setup costs as little as £2,000.
However, you will also need operational capital, that sometimes can be bigger than the initial price. Therefore, you need to prepare a realistic budget according to your financials before plunging ahead.
Additionally, if you don't have much experience in budgeting or perhaps your investment will require extra-financing (bank loan or other investors), then you should seek professional advice.
That could be a one-off service, or you could hire a financial advisor that will help you through the whole process of you buying a franchise, then open and manage it.
4. Make sure you're familiar with all small details
Looking for franchise business could be a lengthy process, but the last thing you wish is missing on a critical detail that could affect your work in the feature.
Send an email to your selected franchisors, ask them all questions that cross your mind, no matter how insignificant you might think they are.
As we said, you need to be on the clarity of what you're getting into it. Also, you can ask for a personal demonstration on how the business operates and what the franchisor offer you in the starting package.
As final words, we will remind you of the old proverb – measure twice, cut once.
Selecting a franchise to invest will impact yours and your family future, so you should be 100% clear and motivated that this is the right type of business for you.
If you need to learn more about the world of franchising, you can check some of our other articles. We have covered all kind of topics, including low-cost franchises, best small business franchise opportunities and best home-based franchises.