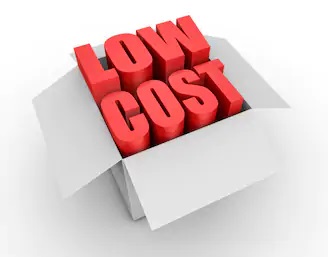 They say we always regret not the things we've done but rather the ones we haven't done. Passing on the chance to run your own business by investing in a franchise may become one of these moments.
More so, that now on the market there are plenty of cheap to buy opportunities in lucrative sectors like pet care, domestic cleaning and children education, to name a few.
One of the best things about franchising is that buying the know-how of someone else is far more cost-effective than starting from a scratch on your own. Investing in franchising comes with ready legalities, marketing strategies and established brand.
Naturally, the first questions all novice entrepreneurs ask when setting their eyes on some opportunity is how much it will cost to set up the franchise and how long it will take to break even.
The good news is that in the UK there are plenty of cheap franchises for sale from a little as £5,000.
In this article, we selected three sectors where you can find low-cost franchises opportunities that are easy and quick to start.
Most of the children in the UK participate in some after school activity, which creates a market niche with huge potential.
Therefore, it is not a big surprise that businesses offering children education and leisure activities are among the most successful franchises currently.
The type of services is extended. Depending on your interests, skills and qualities, you can choose from typically educational opportunities such as language and music classes, through learning by doing – fun science or physical and sports franchises.
Most of these businesses can be run from home, and sometimes professional expertise is not required as you can operate on management style.
Additionally, you can start your business on a part-time base, around your current job and eventually with the time scale up and turn it into your primary source of income.
Another positive side of running a franchise in this sector is the great feeling of rewarding that you will achieve.
Working with children is demanding, as it requires a specific mindset, more attention and patience but also brings extreme satisfaction and happiness.
Due to the wide variety of topics and offered service, the investment prices vary a lot.
The good news is, there a plenty of cheap franchises that will fit even the tightest budget. Typically, the lesser the investment, the quicker you will reach a break-even point.
However a small business will bring small profits too, so if you wish to run a full-time business that will provide enough income for you and your family, consider carefully the possibilities of development, that are offered by the franchisor.
Domestic Cleaning Franchises
Cleaning franchises have a long tradition in the UK market and therefore are among the most established and preferable option for many entrepreneurial novices.
Their best selling point is the fact that despite the current economic situation, they never really run out of market demand. The types of franchises in the industry are divided by the profile of the customers – private or commercial entities.
Many companies, offered both domestic and industrial cleaning, but if you're looking for a cheap franchise to open, then focus on selecting a franchisor specialised in domestic cleaning.
The usual start-up price for these businesses is between £5,000 and £15,000.
Running a cleaning business doesn't mean that you have to be engaged in fieldwork.
This usually is a managerial type of franchise that gives you the know-how of coordinating a team of professionals, arranging appointments with clients and promoting your services.
If you have good organisational and leadership skills, you will thoroughly enjoy your work and probably, scale up your business within a year.
IT Franchises
Another franchise field gaining popularity are opportunities in the IT sector. Nowadays, our lives are practically run by computers and other informational technologies.
And although the major international companies already control the high-end of the market, there are plenty of small and medium-sized businesses that are in constant demand for solutions and innovations.
One particular type of IT franchise that could potentially provide you with a steady business and loyal customer base is IT support and service.
Indeed, it requires some stock investment but in comparison to many other options, this is a cheap franchise opportunity that you can run from home.
There are other cheap IT franchises for sale, such as computing classes for kids or digital marketing services. All these options vary from £5,000 to £15,000 on the initial investment.
Naturally, choosing to tap into this market requires if not an expert level of knowledge, at least a sufficient preparation.
You will be discussing a professional terminology with your clients, and they will be much more trustworthy if they know they talk to someone experienced on the topic.
Pet services and products are topping the industry as one of the most popular franchise opportunities in the UK.
With nearly half of the households in the country owning a pet, this is hardly a surprise. From pet grooming to home pet care, the range of businesses is broad, and what you will need most of all is love for the animals.
Most franchises require an investment between £5,000 to £10,000 and with a break-even point within a year, they are among the most sought after cheap franchises to make money.
Having some degree or experience in working with animals is usually not required. However, in some cases such as pet training services, for example, additional qualification is needed.
Luckily, in most cases, the franchisor can provide you with the necessary training or at least assist you in finding one.
Additionally, the majority of these businesses can be run from home and around a full-time job, giving you the freedom to decide whether this is the right opportunity for you.
As you can see, to start your own business not always you need a hefty loan from the bank or emptying all your savings.
There is a wide range of cheap franchises to buy into and test your entrepreneurial skills without risking too much. You only need to take the first step and choose the right opportunity for you.