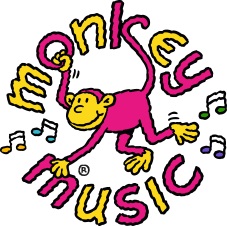 To see the smiling happy faces of hundreds of children has always been the best reward for Angie Coats, the founder and CEO of Monkey Music. This award-winning company offers music classes for babies and toddlers.
She started the classes almost 30 years ago, inspired by the idea of combining her love for children and passion for music. Starting small, with just a few classes, soon the company was gaining significant interest and hundreds of happy, giggling members. Today, Angie Coats run one of the UK most beloved pre-school music education, has published two books from the Monkey music book series and support a strong network of like-minded franchisees.
Monkey Music – a highly rewarding business opportunity
The success of the first Monkey Music classes and the growth that the company achieved, inspired Angie Coats to introduce her business model to the franchise industry. What makes this business appealing to individuals with entrepreneurial zeal are the flexible working hours, home-based management of the classes and full training and ongoing support on a proven and tested methods of operation.
Katherine Watmough is among the most successful Monkey Music franchisees. She joined the network three years ago, after feeling tired of constant travelling with the musical orchestra she was a member of and wanting to spend more time with her family.
Being a musician, she has little knowledge of how to run a business, but according to her own words "right from the start I had a rigorous business training, and they supported me, and still do support me, on my long journey". Today, Katherine Watmough is successfully managing not one, but two franchise territories and just recently became the 2020 Lifestyle Franchisee Winner of the BFA awards.
Many people are tempted to setting their own business but starting from scratch in uncertain economic times can be too risky. Luckily, franchise opportunities like this one can help you become your own boss and build a successful company, implementing know-how and experience gained for over two decades.
You don't need to be a musician, dancer or have experience in teaching as your responsibilities will lie with the organisation and the management of the classes and programmes. Therefore, people from all walks of life are welcomed as they will receive full training on all aspects of running a Monkey Music franchisee – marketing, business training, curriculum and teachers training. However, without motivation, determination and mostly love about what you do, success will not be possible.
Becoming a Monkey Music franchisee is a chance to tap in a growing market. More and more parents are searching for opportunities to support the physical and mental development of their children from the earliest age. Therefore there is a demand for high-quality services focused on that age group.
The classes offered are designed by a team of experts in music and child psychology. They have been bringing smiles on the faces of hundreds of thousands of kids in the last decades and have gained the trust and appreciation of their parents. Therefore, joining the franchise network, you'll become representative of a widely recognised brand, and become an ambassador of their inspirational and positive vision.
Learn More About Monkey Music
Approved Franchises
Average rating:
0 reviews