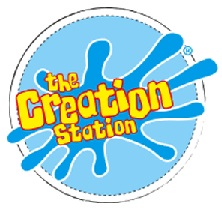 If you believe in yourself and have a goal, you will find the inspiration within to achieve it. This idea has led Sarah Cressall, the founder and CEO of Creation Station, throughout all her life.
As a child, she liked chocolate a lot. To get more of her favourite treat, Sarah drew a comic book with a superhero that looked like a chocolate bar. Her creative and fun story got the attention of the chocolate giant Cadbury, and they sent her a big box of sweet delight.
From that moment, Sarah has always relied on her creativity to guide her life and help her achieve her goals.
As an adult, she pursued a career in management but moved into designing after a while, something that matched her free innovative spirit better. She worked on creative projects with Greenpeace and started developing workshops for people with disabilities and head injuries.
A few years later, already as a mother of three, Sarah was inspired for yet another business idea – educationally-based arts and crafts programmes that will nurture each child individual curiosity and help them learning and developing. Her first "clients" were her three children and her husband. That was the beginning of Creation Station.
Today more than a decade later, she is the inspirational leader of a company with thousands of customers. Sarah and her team have developed a range of activities that aim to inspire people of all ages into finding their inner artist and inventor.
That includes classes, workshops, games and others. Apart from the main Inspiration House in Woodbury, Devon, The company has a growing network of franchises across the country, lead by enthusiastic and like-minded individuals.
Creation Station Franchise Opportunities
In the last decade, franchising has been gaining a strong momentum as a less uncertain alternative to stand-alone startups. Becoming a franchisee provides an opportunity to develop and profit from an established business model and renown brand.
Therefore, the option is often preferred by individuals who wish to leave behind the dreadful 9 to 5 circle and become their boss, without spending all their savings into a risky brand new venture.
The company provides franchising opportunities for people from all walks of life. The company is focused on finding motivated, positive and ambitious candidates, who wish to join their expanding network.
There is no requirement for any previous experience in education or arts. However, becoming a Creation Station franchisee requires enthusiasm, devotion and love for your work.
According to all company's franchisees, the secret to their success comes from their dedication and aspiration to what they do: "I love running my own Creation Station franchise! I get to be creative and have fun with grown-ups and their children every day, as well as having the flexibility and control of my working hours.", Nicole Norman, Creation Station in Stevenage, Hertfordshire.
Becoming part of the company allows the franchisees to set and build up a profitable venture and positively impact their community. The business model is focused on creative education and sustainable social development, an approach that is gaining popularity in many industries.
With over ten years of experience in the field, Sarah and her team at the head-office have to build up a comprehensive training plan for all new franchisees, reassuring their confident start. They begin with an initial five-day training programme and continue with ongoing support on a daily base within the first three months.
The franchisees have access to one-to-one or conference calls, training videos and full access to Creation Station's database Treasure Trove, that can help them set up and grow their business.
Approved Franchises
Average rating:
0 reviews