The Best Opportunity to Pop out from tedious employment and Poppin to a well established Management Franchise Business with high earning potential!
Daily Poppins is one of the UK's greatest success stories in the domestic cleaning industry with more than two decades of proven track record and expanding franchise network.
Looking for a fresh start? Looking for a life-changing opportunity? Looking for an exciting job with great earning potential?
Look no further…..
---
Daily Poppins can offer you all and much more…
– home-based management style business
– flexible working schedule
– low set-up and low ongoing cost
– great margins
– financial freedom
– run your own show
---
Have we caught your attention? Here are some more exciting facts about this fantastic business opportunity…
– Daily Poppins is suitable for people from all walks of life
– You don't need experience in cleaning to build your profitable business.
– You don't need an office, as you can manage it all from the comfort of your home
– You can start small and grow at your own speed, risk-free
– Domestic cleaning is a billion-pound industry, and you can tap into it through a business that has already made millions.
– Access market leading technology
– Daily Poppins expert team will be right beside you at every step of the way providing you with all necessary know-how and proven business methods
---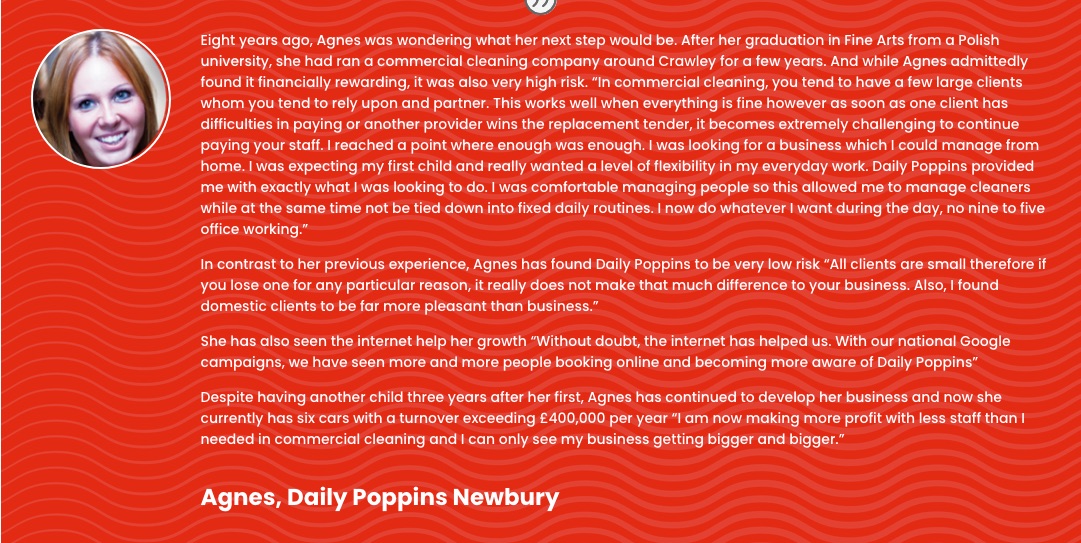 ---
With more than 20 years of experience in the sector and a business model that brought MILLIONS of POUNDS in revenue into the network, we know precisely the kind of people we're looking to become our next Superstar Franchisees…
Do you have what it takes?
Check yourself with these TOP 10 most essential characteristics that all our successful partners have:
They are energetic and proactive
They are friendly and sociable
They are not afraid of hard work
They are ambitious and want to succeed
They are motivated and determined
They are well organised and do not like to waste valuable time
They are responsible and stand behind their work
They are open-minded and want to learn
They are ready to help and support others
They strive for perfection and excellency
If you can see yourself in 9 out of 10 statements, this is fantastic! You could become our next top franchisee…BUT you need to act fast….
Daily Poppins Franchise Opportunity is EXCLUSIVE and LIMITED. We can take only one franchisee per area, and if you want to save your spot, you need to act quickly.